The EngD in Composites Manufacture is a four-year postgraduate research programme, for researchers who aspire to key leadership positions in industry.
An EPSRC funded Centre for Doctoral Training
Supported by EPSRC funding of £7.5 million
Integral activity of the Future Composites Manufacturing Research Hub and a collaboration between the Universities of Bristol (lead university), Cranfield, Manchester and Nottingham
Developing elite Research Engineers
Addressing the urgent and growing need across the UK polymer composites manufacturing sector for engineers ready to take on key leadership positions in industry
Equipping Research Engineers with the necessary advanced technical and leadership skills required for effective adoption of new knowledge and technologies in composites manufacture
Industrially-focused research
Research projects are industry-based and industry-led and aim to address the sponsors commercial research priorities
A programme of bespoke Masters-level technical units and business skills training ensures Research Engineers bring considerable specialist knowledge and capability to their project
Theme area: manufacturing of engineered composite structures
Relevant industry sectors: aerospace, automotive, marine, wind energy and construction
Applied research activity focussed on TRL: 3-5
Academic excellence and access to resources
Constant flow of cutting-edge ideas between the sponsor company and leading academics within the relevant field
Access to a complete range of equipment and techniques at the UK National Composites Centre (NCC)
---
"The IDC was a great experience that integrated me into a network of world class engineers. Being part of this network provided immense support and insight that was rewarding, and strengthened my output. The confidence gained during my time in the IDC has helped me to accelerate my career into technical authority and deliver results in subsequent roles for varied companies. I currently work as a Design Manager for Babcock International." 

IDC Alumni Ashley Barnes
---
"The Engineering Doctorate (EngD) in Composites Manufacture sponsored by the National Composites Centre gave me the perfect environment to develop the skills, competencies and network I needed to fast track my career in the composites industry. The mix of experiences and opportunities I had through this program was absolutely unique. In the same four years, I developed the academic skills needed to conduct and deliver research at doctoral level, delivered consulting R&D work to global companies in the aerospace industry, gained foundational business and technology management knowledge, and rounded my competencies in many critical areas such as leadership, influence, and communication. I truly believe that I would not be where I am today if I hadn't taken the opportunity to join the EngD. "

IDC Alumni Dr Mattia Di Francesco, Business Development Manager at Airborne
---
IDC News…
Study Tour Reports:
Lewis Munshi on his time at iCOMAT:
At the back end of 2019, I completed an internship with iCOMAT, a start up in the field of composite manufacturing hardware. I was given the opportunity to work as a business development engineer, identifying prospective markets for the exciting new technology. The chance to continue to grow my network in the industry of composites and manufacturing gave a welcome change of environment to my research programme. However, the main takeaway was the opportunity to observe the day to day operations of a start-up following their first successful rounds of funding.

I gained a fresh understanding to the challenges and barriers in bringing promising academic and industrial research developments to market. The need to be able to tailor communication of the technology to a range of different partners, suppliers, investors and team members requires a unique challenge that most people rarely get to observe or have a need to perform. I thoroughly enjoyed my time with iCOMAT and the experience has definitely opened my perspective on postdoctoral possibilities.

My acknowledgement to the IDC, UoB, and the NCC, industrial sponsor, for allowing me to take the time out of the research programme for this experience. I would also like to thank the ESPRC for funding the placement through the national productivity fund.

Robbie Herring on his time at The Comittee on Climate Change:
In the middle of March, I started a three month placement at The Committee on Climate Change (CCC) in London. The CCC is a public body which provides independent advice to the UK government on building a low-carbon economy and preparing for climate change. During the placement, I worked predominantly in the Transport and Land Use sectors completing analysis and engaging with stakeholders to determine the cost effective path to meeting the UK's Net Zero target.

I learned so much about analysis, policy and climate change, and really enjoyed my time there. It was a great experience, albeit a slightly surreal one, as apart from one day in the office, the entire placement was completed remotely due to Covid! I found the opportunity through the UKRI Policy Internship Scheme, which offers doctoral students the chance to spend three months in a government department. I thoroughly recommend the scheme to anyone wishing to explore a career in policy and analysis!
Congratulations to Vincent Gill, who started a new role with Rolls-Royce Singapore as a materials engineer on the 4th November. Vincent reports: "I joined RR SG at the start of November as materials engineer in the Capability Technology Group. I am now looking after multiple collaborative projects at the RR corporate lab at the Nanyang Technical Un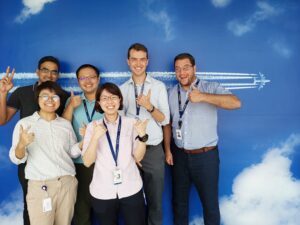 iversity (NTU). These projects focus on the development of electrical materials for electric motors as part of the drive to electrify flight. The attached photo is of another project I am a part of which is looking to identify defects in component micrographs using machine learning."