New fully funded EngD studentships available
The Industrial Doctorate Centre in Composites Manufacture (IDC) is pleased to announce that we are seeking high calibre candidates to take up one of five fully funded EngD studentships based at the National Composites Centre (NCC) – the UK's leading mid-TRL innovation facility in composite materials.
To apply complete and submit this online form and send your CV and transcript of results to Helen.Howard@bristol.ac.uk
Why an EngD?
Patrick Sullivan, an EngD student currently based at the NCC, says
" The ethos of an EngD is to work in industry as if you are a full time employee, fully embedded in your organisation's system's and structures, but to work towards your long term research and academic goal as your thesis approaches. The industry focus is beneficial for steering your research in a meaningful way, allowing greater impact and dissemination of your work.
The appeal if an EngD is that you stay in the academic loop where innovation rules with the freedom to pursue research topics and work with world leading academics. But you are also driven by the focus of your industrial sponsor and their need to see the impact of the research on live projects. "
As a successful applicant, you will be based at the National Composites Centre (NCC) and will work on novel, yet industrially focused, cutting-edge research, whilst following a taught programme at University of Bristol. The projects will cover a wide range of NCC's strategic areas with a focus on using digital manufacturing with composite materials to solve urgent issues towards sustainability.
Financially it makes sense too.
Successful applicants will receive and enhanced tax-free stipend of £23,730 a year, a fee waiver and a generous allowance to support training.
Why the EngD works for industry.
The NCC has supported the Industrial Doctorate Centre (IDC) in Composites Manufacture for many years. Matt Scott, Chief Engineer for Capability at NCC, says
" We find that our deep partnership with the IDC allows us to solve two pressing needs. Firstly, it gives us a mechanism to set motivated and tenacious minds on solving some of the research challenges that a commercial context by itself may not easily allow for. Secondly, it allows us to train the leaders of tomorrow towards an exciting and fulfilling career in the composites sector and beyond. "
The topics you could be working on.
We are seeking highly motivated and committed individuals with an eye on the future, who are interested in conducting stimulating and essential industrial research and have a passion for finding sustainable solutions in areas such as:
Low-carbon concrete.
Through-Life Damage and Environmental Assessment.
Recycled Fibre/Matrix Interfacial Properties
Composite Shielding against Directed Energy Weapons
High-Rate Automated Deposition of CFRP for rapid production of aircraft wings.
Advanced Tooling for Aerospace Composites
Large Scale Rapid Infusion of wings.
In-Process Material Inspection and Verification of Aerospace Parts.
Digital Passport for Re-Using Aerospace Manufacturing Waste.
For more information about the topics you could be exploring visit our website here.
Professor Janice Barton, Director of the IDC, says;
" If you are interested in studying for a doctorate at University of Bristol, being involved in the activities of Bristol Composites Institute and have a passion to explore sustainable composites solutions to address NetZero challenges then please consider applying to be part of our inclusive and dynamic programme in Composites Engineering. "
What you need to bring.
Applicants must hold/achieve a minimum a 2:1 MEng or merit at Masters level or equivalent in engineering, physics or chemistry. Applicants without a master's qualification may be considered on an exceptional basis, provided they hold a first-class undergraduate degree. Please note, acceptance will also depend on evidence of readiness to pursue a research degree and performance at interview.
Due to visa restrictions these posts are available to Home/EU (UK settled status) with permanent UK residency.
To apply complete this online form and send your CV and transcript of results to Helen.Howard@bristol.ac.uk
If you have any further questions about our programme, or if you would like to have an informal chat with Professor Barton or a current EngD student, please do get in touch by e-mail.
Helen Howard, IDC Manager
We are pleased to announce that a team of EngD students from the UK Engineering and Physical Sciences Research Council funded Industrial Doctorate Centre in Composites Manufacture will be presenting their latest work at ECCM 20 (the 20th European Conference on Composite Materials) in Lausanne, Switzerland – 26-30 June 2022. There are two special sessions dedicated to Industrial Doctorate Centre in Composites Manufacture in the afternoon of 28th June. Posters from all the presentations will be on display during the afternoon refreshment break if you cannot attend the session. We will have an information booth in the exhibition at the conference, please visit booth #6 to find out more about our research, opportunities to study with us and the work of the Bristol Composites Institute and their research projects NextCOMP and CerTest. Professor Ivana Partridge the founder of the Industrial Doctorate Centre starts the afternoon's proceedings with a keynote presentation
We have chosen to showcase the work at ECCM as it brings together participants from academia and industry who share an interest in Composite Materials and is the main European forum for knowledge exchange on recent accomplishments and future trends in Composite materials. This year's conference is on the theme of "Composite meet Sustainability" and will highlight sustainability aspects which are prominent in the research projects in our Centre.
We are proud to present the following:
Ivana Partridge, University of Bristol
Keynote Lecture: Toughening approaches in composites – a perspective.
Current EngD Students from the IDC will present their research project on Tuesday afternoon in G3.7 chaired by Janice Dulieu-Barton
Zoe Fielden‐Stewart, Ian Hamerton, Marie Pervier, Rob Backhouse;
Mode I ice adhesion of a commercial cyanate ester and a corresponding polymer blend
Bethany Grimes
Braiding Characterisation and Optimisation
Jack Holyoak, Alix Sauget, Lee Harper;
Manufacturing Advanced Structural Composites from Sustainable Prepreg Materia.
Robbie Herring, Kirsten Dyer, Carwyn Ward;
Leading Edge Erosion of Wind Turbine Blades: An Investigation into Translating Test Results to In‐situ Performance.
Anastasios Danezis, David Williams, Alex Skordos;
Real time remote approximation of nip point temperatures in automated tape placement.
Claudia Jimenez Martin, Vincent Maes, Turlough McMahon, James Kratz;
Forming of complex aerostructures for next generation aircraft wings.
Joe Soltan, Jamie Hartley, Janice Dulieu-Barton, James Kratz
Modular Infusion: Novel Approaches to Segregation and Control of Flow Fronts Within Liquid Resin Moulding.
Huw Edwards, Janice Dulieu‐Barton, Chul Kim Byung, Daniel Galpin, Marcus Walls‐Bruck;
The effect of test parameters on the microcracking behaviour of carbon composite laminates during cryogenic conditioning.
Lachlan M. Williams, Adam J. Thompson, Stephen R. Hallett, Jonathan P‐H. Belnoue;
Development of Forming Simulation Capabilities for use in Large‐Scale Next ‐ Generation Composite Aerospace Structures.
Philip Druiff, Amit Visrolia, Carwyn Ward;
Towards data‐driven automated fibre placement with computer aided manufacturing in the loop.
William Darby, Ole Thomsen, Sean Cooper, Matt Etchells;
Warpage Prediction for Large Thermoplastic Composite Overmoulded Aerostructures.
Patrick Sullivan, Steve Eichhorn, Ian Hamerton, Vicky Summers;
Reducing the length of recycled carbon fibres to improve dispersion behaviour and enable highly aligned carbon fibre materials
Students will be available to talk about their research at our special session during the afternoon coffee break on Tuesday the 28th of June.
Claudia Jimenez Martin talks about shifting plans, extracurricular activities — and how, even under the best of circumstances, a research degree isn't a linear path in the BDC PGRcast on research in times of adversity. 🎧 Listen now on SoundCloud | Listen now on Spotify on Apple Podcasts and Google Podcasts
The Industrial Doctorate Centre in Composites Manufacture held its Showcase event on Tuesday 26th October at Engineers House in Bristol, which was followed by a celebratory dinner at the Hotel Du Vin, Avon Gorge. The event marked the launch of a brochure to summarise the IDC activities, highlighting the taught units, IDC research projects including articles on Research Engineer journeys and their study tours. The IDC has been running since 2013 and recently recruited its final student, therefore the Showcase and brochure marks this milestone. The Showcase was a special cohort building and feedback event for the IDC Research Engineers to celebrate their achievements, as well as the support from our industrial collaborators and academic partners and supervisors. Many IDC Alumni, academic and industrial supervisors attended, along with some specially invited VIP guests. The Showcase proved to be a wonderful opportunity for the cohort to come together in person and provide an insight into their diverse research activity in composites manufacture through a series of oral and poster presentations. Prizes awarded for the best poster went to:
1st Prize: Claudia Jimenez Martin "Forming of Complex Aerostructures for Next Generation Aircraft Wings"
2nd Prize: Preetum Mistry "The Design of a Lightweight Composite Railway Axle"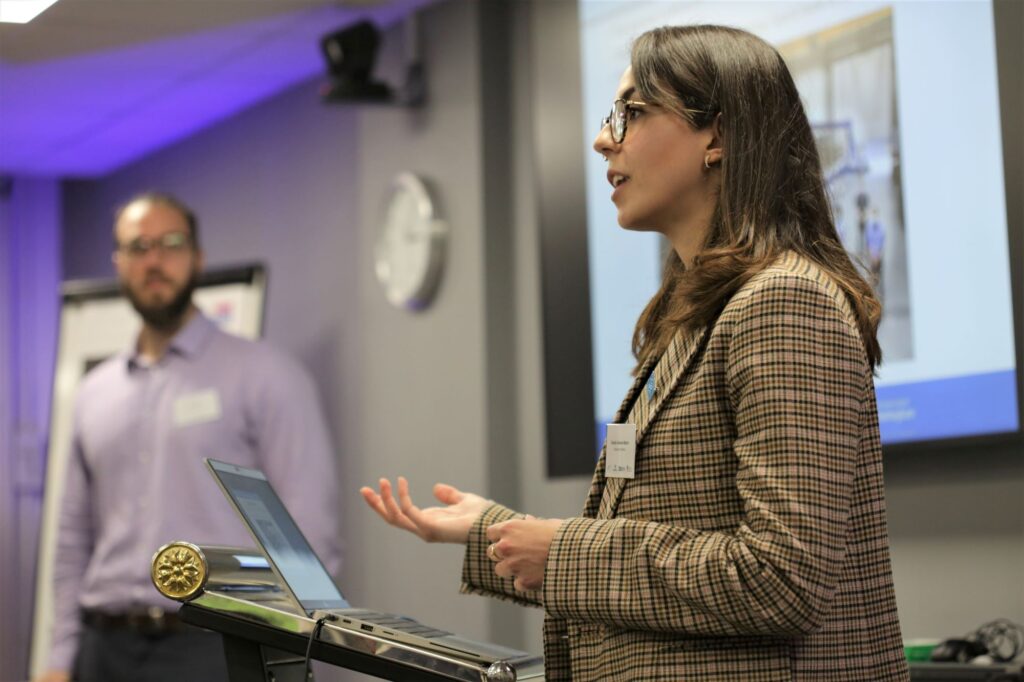 Congratulations to Vincent Gill, who started a new role with Rolls-Royce Singapore as a materials engineer on the 4th November. Vincent reports: "I joined RR SG at the start of November as materials engineer in the Capability Technology Group. I am now looking after multiple collaborative projects at the RR corporate lab at the Nanyang Technical Un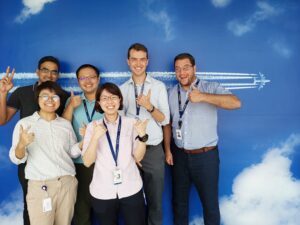 iversity (NTU). These projects focus on the development of electrical materials for electric motors as part of the drive to electrify flight. The attached photo is of another project I am a part of which is looking to identify defects in component micrographs using machine learning."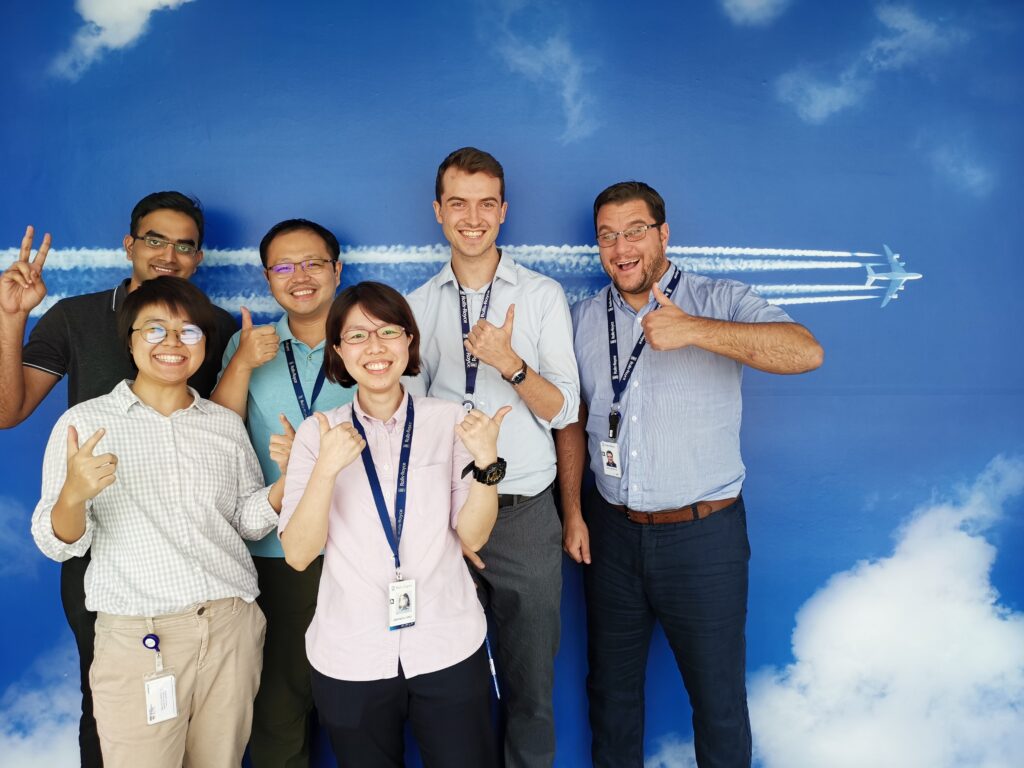 At the back end of 2019, I completed an internship with iCOMAT, a start up in the field of composite manufacturing hardware. I was given the opportunity to work as a business development engineer, identifying prospective markets for the exciting new technology. The chance to continue to grow my network in the industry of composites and manufacturing gave a welcome change of environment to my research programme. However, the main takeaway was the opportunity to observe the day to day operations of a start-up following their first successful rounds of funding.
I gained a fresh understanding to the challenges and barriers in bringing promising academic and industrial research developments to market. The need to be able to tailor communication of the technology to a range of different partners, suppliers, investors and team members requires a unique challenge that most people rarely get to observe or have a need to perform. I thoroughly enjoyed my time with iCOMAT and the experience has definitely opened my perspective on postdoctoral possibilities.
My acknowledgement to the IDC, UoB, and the NCC, industrial sponsor, for allowing me to take the time out of the research programme for this experience. I would also like to thank the ESPRC for funding the placement through the national productivity fund.
In the middle of March, I started a three month placement at The Committee on Climate Change (CCC) in London. The CCC is a public body which provides independent advice to the UK government on building a low-carbon economy and preparing for climate change. During the placement, I worked predominantly in the Transport and Land Use sectors completing analysis and engaging with stakeholders to determine the cost effective path to meeting the UK's Net Zero target.

I learned so much about analysis, policy and climate change, and really enjoyed my time there. It was a great experience, albeit a slightly surreal one, as apart from one day in the office, the entire placement was completed remotely due to Covid! I found the opportunity through the UKRI Policy Internship Scheme, which offers doctoral students the chance to spend three months in a government department. I thoroughly recommend the scheme to anyone wishing to explore a career in policy and analysis!