The Future Composites Manufacturing Research Hub is a £10.3m investment by the EPSRC to engage academics from across the UK to deliver a step-change in the production of polymer matrix composites.
The Hub is led by the University of Nottingham and the University of Bristol and initially included 4 other Spokes: Cranfield University, Imperial College London, the University of Manchester, and the University of Southampton.
Three new academic partners joined the Hub in October 2017 following the first call for Feasibility Study proposals in May 2017: the University of Cambridge, The University of Edinburgh, and the University of Glasgow. Brunel University London joined the Hub in January 2018 following a second call for Feasibility Study proposals in October 2017. The Hub is supported by 4 High Value Manufacturing Catapult Centres and backed by 18 leading companies from the composites sector, offering a further £12.7m in additional support.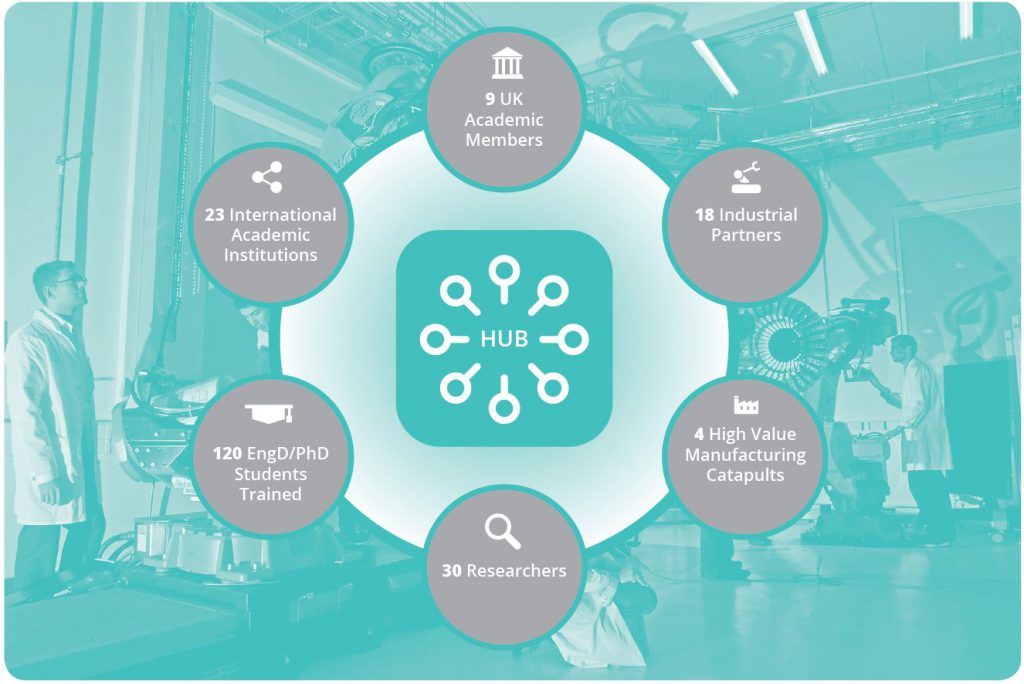 Building on the success of the EPSRC Centre for Innovative Manufacturing in Composites (CIMComp), the Hub will drive the development of automated manufacturing technologies that deliver components and structures for demanding applications, particularly in the aerospace, transportation, construction and energy sectors.
Over a seven-year period, the Hub will underpin the growth potential of the sector, by developing the underlying processing science and technology to enable Moore's law for composites: a doubling in production capability every two years.
To achieve our vision we have identified five research priority areas, in collaboration with industry partners and the Composites Leadership Forum:
High rate deposition and rapid processing technologies
Design for manufacture via validated simulation
Manufacturing for multifunctional composites and integrated structures
Inspection and in-process evaluation
Recycling and re-use
In order to match these priorities with UK capability, we have identified the following Grand Challenges, around which we will conduct a series of projects:
Enhance process robustness via understanding of process science to deliver and accelerate growth
Develop high rate processing technologies for high quality structures to develop new technologies and diversify into emerging sectors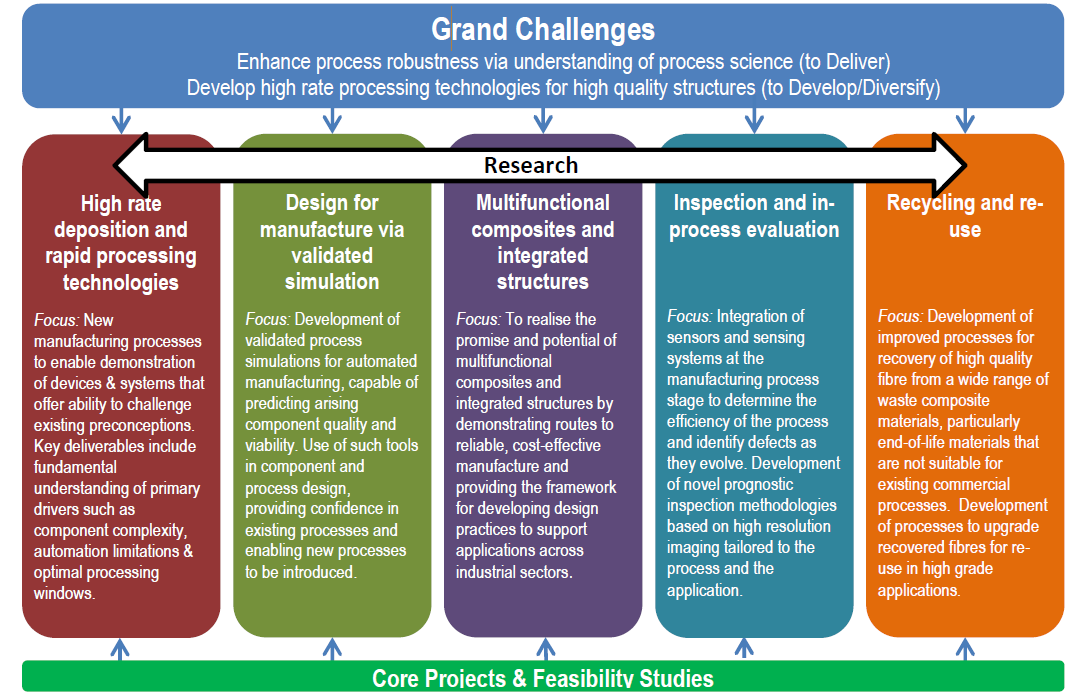 To mitigate against technical risk, each project will start with a 6 month Feasibility Study, which, if successful, will lead to a full Core Research Project, typically lasting for 3 years. Based on previous successful research funded through CIMComp, the Hub was launched in January 2017 with the following three initial Core Projects:
and two Feasibility Studies:
Six new Feasibility Studies were funded following a call for proposals in May 2017:
A second call for Feasibility studies was announced in October 2017 which led to a further 2 Feasibility Studies being funded:
A third call for 4 more Feasibility studies was announced on November 1st 2018.
The submissions will be reviewed and the start date for projects will be 1st April 2019.
A call for additional Feasibility Studies will be announced in year 4, and the Hub will look to fund up to 16 studies in total.
Calls for proposals will be open to all UK academic institutions and will be advertised widely via our website, EPSRC, and major composites newsletters. Awards will be limited to £50,000 at 80% FEC over up to 6 months and must address a fundamental step-change in composites manufacturing technology that aligns to the research priorities outlined above. There is over £4m of funding available through this flexible model and this is the primary mechanism for new academic partners to gain Spoke status within the Hub