The Engineering Doctorate (EngD) in Composites Manufacture is a four-year doctorate programme for researchers who aspire to key leadership positions in industry. The programme provides a challenging, multi-disciplinary and academically rigorous education and training experience, leading to a recognised postgraduate qualification. The EngD research student, or 'Research Engineer', conducts PhD-equivalent research and completes taught technical and business courses whilst working closely with an industrial sponsor.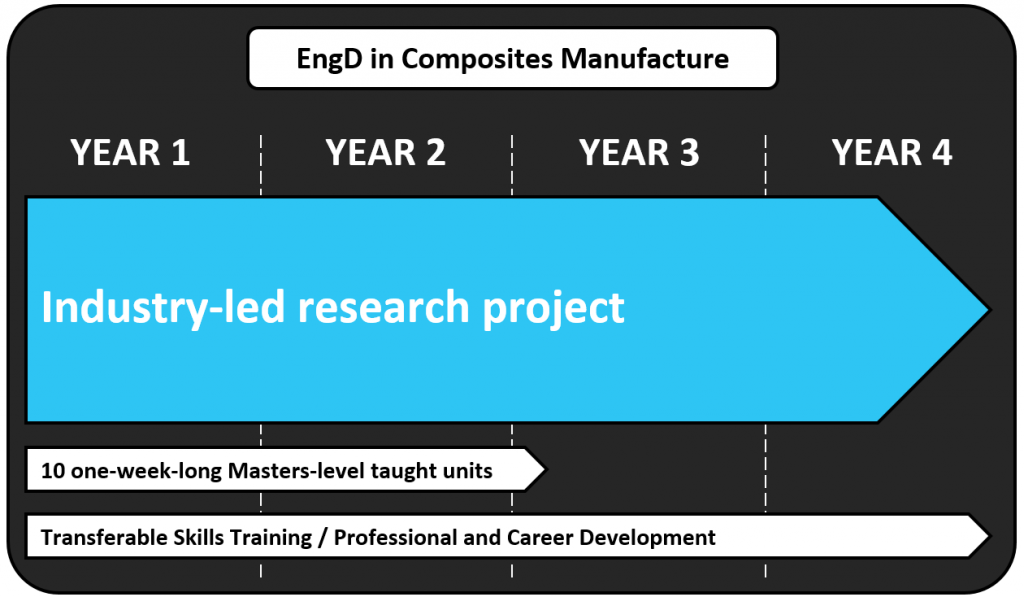 The EngD is undertaken as a partnership between industry and academia, while each EngD research project is designed around the sponsoring company's research priorities. Research Engineers spend 75% of their time at their sponsoring company carrying out the industrially focused research project, while the remaining 25% of their time is allocated to completing bespoke taught units, which are specifically tailored to the needs of the composites manufacturing engineer.
The taught component is made up of 10 Masters‐level units, each lasting one week. The units are delivered by leading academics and industrial speakers, and are run at the National Composites Centre in Bristol and the University of Bristol, with the Business Skills units taking place at the University of Bath.
Constituents of composites
Manufacturing of composite structures
Laminate analysis and modelling
CAD for composites design and manufacture
Mechanical performance of composites
Process modelling and control in composites manufacture
Design for manufacture of composites
Composites manufacturing study tour
Business skills 1: commercialisation of new technology
Business skills 2: technology strategy and organisation
Research Engineers are supervised by an academic and an industrial supervisor and are registered to the University of the academic supervisor. Further information about the EngD award is available via the Association of Engineering Doctorates.