The computational framework has been implemented for the development of new preforming technologies and the project is moving towards implementing this for some industrial case studies.  The framework implements a multi-scale approach for modelling composite structures, which ultimately reduces the entire structure down to a meso-scale representative volume element of the material. It creates parameterised meso-scale unit cells of the fibre reinforcements using TexGen, the University of Nottingham's textile pre-processor (Figure 1). Mechanical properties of the unit cells are calculated using Abaqus finite element solver. A new meshing algorithm has been implemented to improve the efficiency of this part of the framework. The meshing algorithm combines octree-based local refinement/coarsening of meshes and surface smoothing. The algorithm is embedded within TexGen and will be published as part of the open-source program.
The framework optimises the meso-scale geometry of fibre reinforcements according to the selected criteria, e.g. minimal weight, within selected constraints, e.g. component target stiffness. The design space (possible configuration of yarns/ layers) for the optimisation of the meso-scale geometry is larger than that of conventional 3D textiles. In addition to changing the total number of layers, the spacing between yarns and the binder path, off-axis yarns and changes in fibre orientation are allowed to every layer of the optimise preform. A multi-objective genetic algorithm performs a search over the design space and selects the best solutions according to selected criteria.
One of the selected case studies is the optimisation of fibre reinforcement for a section of a vehicle floor pan, in collaboration with the Advanced Manufacturing Research Centre (AMRC). Two load cases, bending and torsion, are modelled in Abaqus using material properties calculated at the meso-scale. A multi-objective optimisation of the fibre reinforcement predicts multiple optimal solutions, as shown by the Pareto front in Figure 2. This highlights the relationship and trade-offs between the selected optimisation criteria and helps an end-user to select a solution according to the weighting of the requirements.
Novel manufacturing techniques are currently under development in order to validate the optimisation algorithms. A technique to place off-axis yarns for 3D preforms has been developed, initially for a flat preform (Figure 3) and subsequently for a tubular preform. The preforms made with this technique are not limited to having most of the layers in a particular direction like orthogonal 3D woven preforms.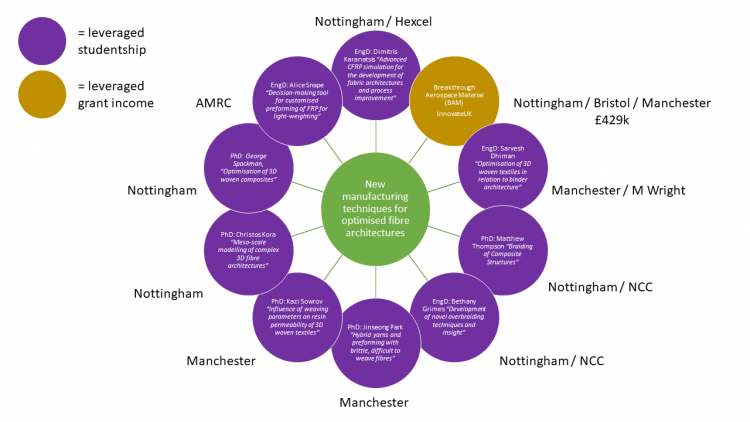 Webinar Presentations
'Hub Overview' Professor Nick Warrior, University of Nottingham
'New Manufacturing Techniques for Optimised Fibre Architectures' Professor Andy Long, University of Nottingham
https://www.youtube.com/watch?v=3gLet1RUDnQ
'Development of New Manufacturing Techniques for Complex Preforms' Professor Prasad Potluri, University of Manchester
'Numerical Framework for Optimisation of Fibre Preforms' Dr Mikhail Matveev, University of Nottingham
'Optimisation of 3D Woven T-joints' George Spackman, University of Nottingham
'Manufacturing of Optimised Preforms: Case Studies' Dr Vivek Koncherry / Dr Shankhachur Roy, University of Manchester
https://youtu.be/Zrn_OKE-lEE    https://youtu.be/kVliq8zH5wU