IDC Research Engineers attend 3rd annual Rolls Royce conference in Derby, 21st November 2016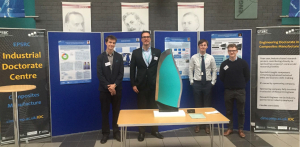 The 3rd annual Rolls Royce Engineering Doctorate conference brought together researchers from across industry and academia to showcase and celebrate the impact of EngDs work within industry. Presentations were given by previous and current EngD researchers, including IDC Research Engineer Alex Cochrane. Alex's presentation highlighted the need for highly skilled and technically-minded individuals within the UK composites industry and how the IDC in Composites Manufacture aims to address the skills gap, to provide future technical leaders and researchers to the nation's composites workforce.
---
IDC Research Engineer offered RCUK Policy Internship & wins RAeS "Young Lecturer" Competition, October 2016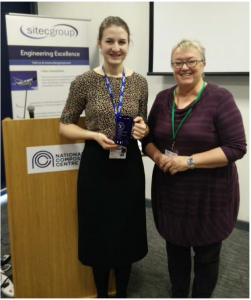 Congratulations to Laura Veldenz, an IDC Engineering Doctorate student, who won the Royal Aeronautical Society's "Young Lecturer" competition award on 22nd October 2016. (http://www.raesbristol.org.uk/).
Following a successful application, Laura has also accepted an offer from RCUK for a Research Council Policy Internship at the Government Office for Science. (http://www.rcuk.ac.uk/skills/policy-internships-scheme/).
---
IDC Conference 18th October 2016
The first IDC Conference took place at the NCC on Tuesday 18th October 2016 and the event was a great success, with over 60 delegates attending. The day involved an overview of the IDC Research Engineers' work through a reprise of some international conference papers, as well as poster presentations and reports on recent international placements.
A successful dinner event took place at the Avon Gorge Hotel following the conference, where many EngD Research Engineers won awards and prizes based on votes from Industrial delegates, Academic delegates and fellow IDC Research Engineers for best posters and presentations during the day.
Please find the winners below:
Best Paper: Mattia Di Francesco
Best Presentation: Mattia Di Francesco
Runner-Up for Best Presentation: Ffion Martin
Best Quick Fire Presentation: Oliver Parks
Best Poster (as voted for by Industrial delegates): Simon Wilkinson
Best Poster (as voted for by Academic delegates): Alex Cochrane
Best Poster (as voted for by IDC Research Engineers): Harry Barnard
---
IDC Research Engineer wins SAMPE students presentation competition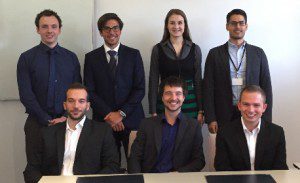 Mattia Di Francesco, an Engineering Doctorate student sponsored by the National Composites Centre, has won a competitive students presentation competition, which ran as part of the SAMPE UK and Ireland chapter Conference in London on the 16th June 2016.
Mattia's presentation was entitled 'Influence of layup speed and laser power density on the quality of thermoplastic preforms manufactured by Automated Fibre Placement', and demonstrated that the mesostructure of a thermoplastic preform manufactured using an Automated Fibre Placement machine can be tailored by changing the size of the laser heated zone.
Mattia is currently in the third year of his four-year Engineering Doctorate with the Industrial Doctorate Centre in Composites Manufacture, working on the optimisation of Automated Fibre Placement technology. As the winner of the students' presentation competition, Mattia has been invited to present at SAMPE Europe in Liege, Belgium in September 2016.
The Society for the Advancement of Material and Process Engineering (SAMPE) is a global professional member society, that provides information on new materials and processing technology via conferences, exhibitions, technical forums, publications, or books in which professionals in this field can exchange ideas. As the only technical society encompassing all fields of endeavour in materials and processes, SAMPE provides a unique and valuable forum for scientists, engineers, and academics.
Photo: Mattia Di Francesco (back row, second from left) with his fellow conference delegates (Image credit: Andrew Mills)
---
IDC Research Engineers' visit to IPECO Composites, Friday 27th November 2015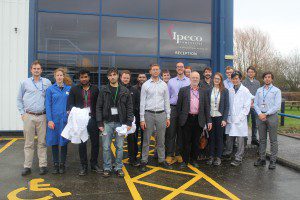 As part of a recent taught unit, Design for Manufacture of Composites, the IDC Research Engineers visited IPECO Composites at their site in Clevedon near Bristol.
The visit to IPECO was organised to give students an opportunity to acquire some hands-on, workshop floor experience of composite manufacturing in industry, and to discuss the role of design for manufacture in composites. The techniques covered included prepreg hand lay-up and vacuum forming.
The students had an enjoyable and informative visit, and found the experience gave them a "great insight into the different manufacturing methods".
The group were kindly hosted by Paul Stacey and Dr Dominic Bloom. We would like to thank the IPECO staff for taking the time to show the students around, demonstrate their work and answer queries.
Ipeco Holdings Ltd is a privately owned UK company, engaged in the design, development, manufacture and test of niche products for the aerospace and defence industries, amongst others. Principal products include aircraft crew seating, executive passenger seating, galley inserts, salt bath brazed chassis and electronic power management systems. The company has extensive manufacturing capability, including a dedicated composites division.
Ipeco Composites has a long-standing reputation for expertise and innovation in the design, development and production of high performance structures utilising both metallic and advanced composite materials.
---
Pete Calvert on the thrill of 'overcoming physics' in the aerospace sector – Online article in The Telegraph, 29th October 2015
Third year Research Engineer, Pete Calvert, talks about his journey to becoming a composite manufacturing engineer with Rolls-Royce, and the way in which the EngD is helping him become a technical expert in this emerging field.
The full article, entitled 'Inside the next generation of aerospace engines' can be found on The Telegraph's website.
---
2014 Engineering Professors' Council and Hammermen of Glasgow Student Awards
Congratulations to Laura Pickard (first year EngD Research Engineer) who claimed first prize in the '2014 Engineering Professors' Council and Hammermen of Glasgow Student Awards'.
Students, both undergraduate and postgraduate, were invited to submit an essay on the following topic:
How does engineering contribute to the UK economy and how can that contribution be increased? Is there a role for UK engineering in higher education in making this happen?
Laura's winning essay, entitled 'Engineering the Future', as well as further information about the Awards can be found on the Engineering Professors' Council website.