Published: 29th March 2019
The EPSRC Future Composites Manufacturing Research Hub has announced its annual Open Day on Thursday 12th September 2019.
This free-to-attend event will celebrate the second complete year of the Hub, providing partners the opportunity to highlight progress to date and showcase project outputs. This will be a great opportunity for those across the composites manufacturing supply chain to learn about the latest research and developments in this field.
Proceedings will start at 10:00am with a welcome address from our Director, Prof Nick Warrior, followed by a keynote presentation from one of our industrial partners explaining the importance of the Hub to the UK's composites manufacturing R&D strategy. Current PhD students will showcase their high quality and diverse composites research through a series of fascinating presentations and research posters.
A networking lunch will be provided, offering further opportunities to view the students' posters, and cast your vote in the poster competition.
Attendees will discover how to engage further with the Hub, including the support the Hub requires to continue its development and expansion. Q&A sessions will provide opportunities to network and discuss research interests with Hub partners.
Additional information about the event, together with details about how to get to the venue at the Advanced Manufacturing Building, are detailed on the Eventbrite event page.
Please register to attend the free open day here: https://cimcompopenday.eventbrite.co.uk
CIMComp Director Nick Warrior is looking forward to welcoming industry and academic partners to the event.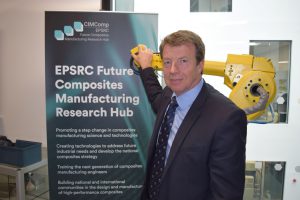 "The Hub welcomes existing members and potential new partners from all institutions and industries to the event.  It will be a great opportunity to disseminate our current research work, to learn more about the needs and challenges faced by the UK composites manufacturing industry across all sectors and discuss how the Hub can work in partnership to address some of these challenges."